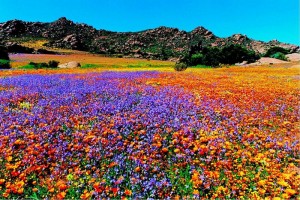 Ever had that itch to be somewhere beautiful? Well South Africa has an array of amazing spots to visits that can attest to the diversity and beauty of our country. One such a place is Namaqualand. It is not much during most of the year, but spring brings with it a burst of colour and its splendour can barely be captured by camera.  More than 4000 types of seeds sit in wait for the perfect moment to bloom. Timing is everything and so they wait for the right circumstances. Everything has to work together, including the wind, rain and temperature, to ensure that the environment is ready for this spectacle.
It is not so different for projects. If you want to see real beauty in the success of your project it is important to understand the dynamics within your project, organisation and team and wait for the right moment. It all has to come together at the right moment just like the flowers of the Namaqualand. Too little rain means no flowers, too strong winds leads to flowers that quickly withers. No wind means not enough pollination, little rain implies not enough damp soil to help a seeds grow. So all elements are needed…even those that we sometimes consider to be roadblocks to our success.
And therein lies the art of project management. Those of us having had the privilege to manage projects before knows that a lot of the success of the project lies in the ability of the project manager to know when to block the wind and when to let it blow through. It is knowing when rain is needed and when rain is going to be damaging to the mind-set of the team.
Getting to see your project bloom is definitely fortunate, but getting it to bloom in its diversity is even more special. Too early will have not enough flowers bloom or too late will see most of the blossoms already withered. Both will leave you disappointed. Timing is thus everything and celebrating the differences that lies within each team member and directing the differences to bring together a solid team performance is part of the skillset needed from the project manager.
The Namaqualand flowers will mean nothing if there is nobody who make an effort to witness its splendour every year. Tourists (both international and local) flock to the area every year between August and September and create an economic bloom for accommodation establishment and local businesses in those areas. Similarly it is necessary for the project manager to sell the project success to those within, and outside the organisation and thus create an economic bloom for the organisation, the project team and individuals who can benefit from the success of the project.
So in summary then, the project manager's role in project success should never be underestimated, diversity should be embraced and successes celebrated. That way the beauty of success can be enjoyed.
Written by: Lizette Venter,  September 2018